Jean-Baptiste Camille Corot.
I've been looking at some very early (late 18th, early 19th century), pre-Impressionist landscapes painted outdoors, like Corot's painted
sketches from Italy
, or
these paintings
shown in an exhibit at the Metropolitan Museum of Art. One thing I've noticed is that many of the paintings were executed on paper over a detailed line drawing, or at least planned out in a sketchbook, and I wanted to share some of the drawings here.
Line drawing and mass drawing are two ways of categorizing drawing. Line drawing shows form by way of the outline, whereas mass drawing uses chiaroscuro to show form. Harold Speed talks about both in his
book on drawing
. And of course some use both styles interchangeably within the same drawing, like the Corot above. He has described the terrain and branches with line drawing, but used a little hatching and darker values (mass drawing) to show the form of the trees. If you look at Ingres' portraits drawn in pencil, he uses the same technique: line drawing to show clothes, hands, etc., but finely rendered mass drawing to show the features of the face.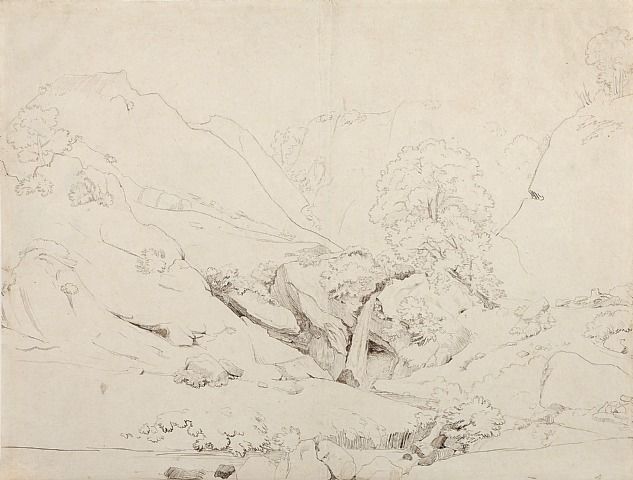 Corot
John Constable
Study for 'Flatford Mill'
circa 1816
John Constable
Sketch of Shipping
Line drawing is really out of fashion, it seems, but I love the look of it. I can't find many people who do it anymore, with the exception of
Donald Jurney
(flip through the preview of his book at the bottom of his post) and
Marc Dalessio
.
Frederic Church
JMW Turner
I'll admit I have a much harder time with line drawing than mass drawing. I think it's probably because of the precision that's required to put an outline in exactly the right place, without being able to "fudge it" by pushing masses around. These have a sureness that only comes from lots of practice.
Corot
JMW Turner
The National Gallery's website has an infrared photograph in which
you can see a preliminary line drawing
under one of Corot's early plein air paintings. Drawing directly on the paper helped him work out complex compositions and solidify the drawing ahead of time.
Looking through all these I feel really inclined to make drawing much more a part of my painting process than it is. I often just set up my easel and go, working out the drawing and composition as I paint. Good draftsmanship for a painter is like having a strong grasp of grammar and vocabulary for a writer, and it's something I'd like to continually improve on in my skill set.